Skip to content
TLZANI MICRO-FUSION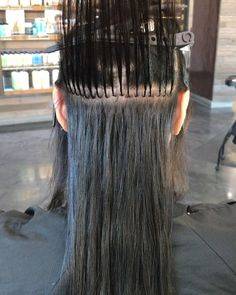 If you're looking for high quality real hair extensions, Micro FUSION involves cutting a single Fusion extension into a series of smaller Micro-FUSION which can be installed on smaller sections of the client's hair, promising less weight, greater precision, and more flexibility than ever before, and even enabling you to install in the crown area and hairline! Here at Tl'Zani we provide custom strand placement for a more natural realistic look.
What they are: Micro-Fusion hair extensions are tiny and less likely to be noticed. The micro-fusion is the smallest fusion yet. This makes them one of the safest methods of applying real hair extensions.
Who they are for: Micro-Fusion's are for woman with fine hair that desire to have a healthy, thick and voluminous looking hair.
The maintenance: An maintenance appointment should be made every three - four weeks to keep them in the very best condition. Tl'Zani Extensions are reusable and can last the test of time with proper care.
Type of hair needed: The healthiest hair is Tl'Zani hair. Tl'zani Remy hair guarantees the cuticles are pointed in the same direction, it lasts longer, and reduces tangles.
Note: Our descriptions must only be used as a guide to help you purchase your extensions. Always consult your stylist for details regarding application methods.