Skip to content
TL'ZANI SIGNATURE PONY TAIL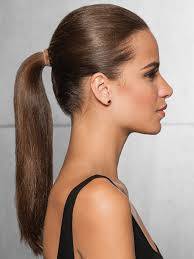 Tl'Zani Signature Technique is one that uses no pins and no glue to create a natural looking pony tail. Tl'Zani makes sure you only see the natural hair and not the extension hair to create a long natural looking ponytail. The client must have 5-6" hair length in order to achieve this natural looking style. This application can last up to 1 months with proper care. Human hair is recommended for this style.Here at Tl'Zani we provide custom techniques, and strand placement for a more natural realistic look.
Kind of hair: The best hair is Tl'Zani's hair that guarantees the cuticles are pointed in the same direction. This is the healthiest hair, it lasts longer, and reduces tangles. However make sure to receive hair that matches your hair texture to create the best natural illusion.

Application Time: Application takes 30min. -1 hour.
Self hair care: Tie your hair down at night.

The maintenance: An maintenance appointment should be made every 1-2 weeks. to keep them in the very best condition. Tl'Zani Extensions are reusable and can last the test of time with proper care.
Re-Application : 2-4 weeks
Note: Our descriptions must only be used as a guide to help you purchase your extensions. Always consult your stylist for details regarding application methods.